Move to Iconic £20m Facility Creates One-Stop-Shop Service for Leading Engineering Firm
September 29, 2015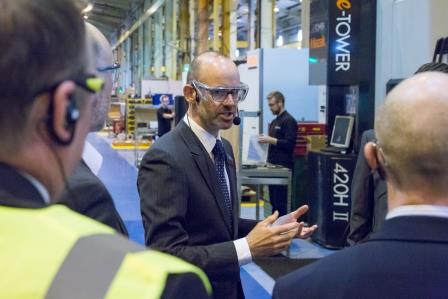 Globally renowned firm Responsive Engineering can now offer a high quality one-stop-shop service for clients thanks to a move to its new home  – the iconic Armstrong Works in Newcastle.
Once dubbed the Workshop of the World, the vast 33,300m2 facility on the banks of the Tyne founded by the great industrialist Lord Armstrong, was officially opened earlier this month by Newcastle and England fooballer Alan Shearer OBE following £20m investment by holding company Reece Group.
Responsive Engineering has over 350 employees providing a wide range of subcontract manufacturing services including machining, welding, fabrication, pressing, assembly, testing as well as laser and water jet cutting, for the oil and gas, power generation, defence and sub-sea sectors.
The state-of-the-art facilities inside the Armstrong Works means that Responsive Engineering is now able to offer a complete subcontract manufacturing service with over 40 CNC machine tools, an extensive range of laser, water and plasma cutters and over 200 welders and platers.
With all processes now taking place under one roof, work can be carried out quicker, while maintaining the highest quality.
Graeme Cook, Managing Director of Responsive Engineering, said: "Without the need to rely on subcontracters we can offer a one-stop-shop service, providing greater control and enabling us to do things much quicker, while maintaining the highest quality.
"Our customers in the oil and gas, subsea, power generation and defence sectors have demanding expectations of their supply chains. We strive to exceed these expectations, giving assurance to clients that the actual quality, traceability and documentation packs meet or exceed their requirements.
"In difficult times our customers are looking to consolidate their supply chains and we are now in a fantastic position to be able to offer this to them.
"The logistics of getting the site ready and the machinery moved has been an enormous challenge but one which has been both exciting and invigorating for everyone involved. There has been a tremendous effort from all those involved to achieve what has been a seamless transition of operations onto site and we definitely see this move as an excellent opportunity to further build upon our success."
Newcastle's historic Armstrong Works produced the hydraulics for Newcastle's Swing Bridge and London's Tower Bridge, as well as parts for the Spitfire and the 'bouncing bombs' used by the Dambusters. It also made the first breech-loading gun for the war in Crimea and Chieftain battle tanks  – said to be the most formidable main battle tank in the world.
Leading engineering company Reece Group is the holding company with engineering businesses operating in the defence, oil and gas, power generation, construction, medical and subsea markets.